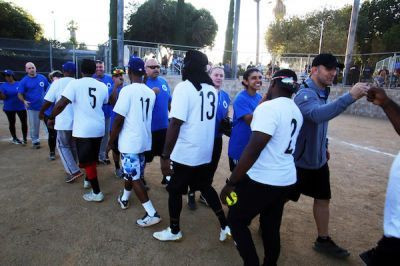 Behind the Badge Feature: Annual Police vs. Community Softball Game
Thursday, 24 September 2020
**Originally Posted WEDNESDAY, 31 JULY 2019

Despite our close loss, we had a great time at our annual softball game with our community! Thanks to Lou Ponsi at Behind the Badge for covering it.

"The final inning of the annual softball game between the Pasadena Police Department and the Community couldn't have been scripted with a more climactic ending.

Pasadena native Michael Harrison, 29, a member of the community squad, belted a two-run triple in his team's final at-bat to give the Community a 13-12 come-from-behind victory over Pasadena PD.

The annual Police vs. Community softball game, played July 10 at Robinson Park, serves annually as the official kickoff to Pasadena's Parks After Dark program, featuring an array of youth and family activities held Thursdays through Saturdays through Aug. 10 at various parks around the city."

Read the rest of the article here.